The Great Egg Hunt has arrived!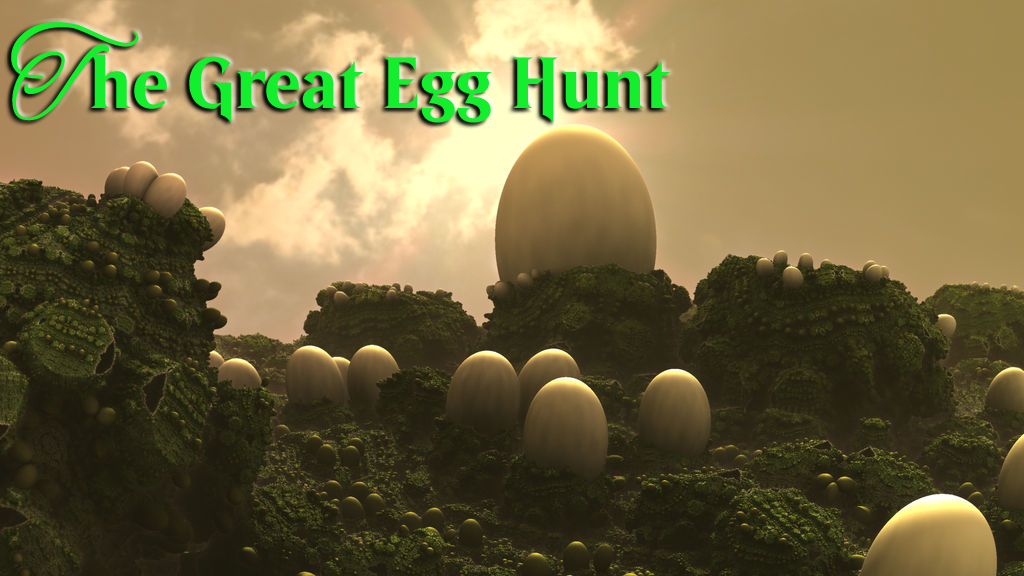 The time for 'Gunters is now!
In The Oasis, 'Gunters search for Halliday's Easter Egg. On MTG Cardsmith we've managed to hide not just one, but quite a few Easter Eggs for you all to search for! With the help of some of your favorite Cardsmiths, and with your help as well, April is going to be our most adventurous month ever!

Right now there are no less than NINE Cardsmith accounts with up to three hidden Easter Eggs each. You job will be to sniff out those Cardsmiths and post the hidden challenges, as well as the cards you make for them, to the April 2021 thread, which is linked below. We will be awarding points to our Hunters and our Hiders throughout the month. Anyone can make cards for the discovered challenges, not just the person who uncovered it.
The rules of the hunt!
-Each person can hide up to three challenges they come up with in their cards. (Example: https://mtgcardsmith.com/view/eyeball-juggler) This is an example card and not part of the hunt. Check out the Featured Comment on the card for instructions on how to hide your challenges.
-If you are a premium member, you may hide your challenges in your cards made before April 1st. If you do, send us(@Corwinnn or @Tomigon) a message and let us know how many challenges you hid (Up to 3).
-People may post challenges they find to this thread->[Click] with cards made for those challenges. Some of those cards will be featured.
-A person who posts a newly found challenge gets 1 point, and the person who hid that challenge also gets 1 point. If the challenge was hidden in an old card by premium member, that member gets 2 points and the finder gets 3 points instead.
-At the end of the April, top three winners will be announced. 
Prizes:
1st Place- 1 month of Premium membership and one featured card of your choice
2nd Place- One featured card of your choice
3rd Place- One featured card of your choice
Something for your egg basket!
If you haven't seen it, an amazing Egg Set Symbol has been made available to use on your cards!
All participants who post their themed cards will also earn the incredible Egg Avatar as seen below!

The top three will also receive the highly coveted Golden Egg Avatar!

2,000,000 Cards
It seems like just yesterday that the 1,000,000th card was created. Last month we surpassed 2,000,000 cards made on MTG Cardsmith. And while every card created isn't the perfect card ever made, that number is a testament to just how much MTG Cardsmith truly is the best interactive card creator online, and how much you enjoy being a part of this community. Thank you to everyone who made a card over the years and helped us become one of your favorite online destinations!
If you're curious to see it, here is Card 2,000,000!
Featured Cardsmiths
This month we gathered up two more incredible Cardsmiths to feature... ThePhantomJoker & IanLowenthal!

A prolific Cardsmith, ThePhantomJoker has already filled up his main account and has started making more cards on his secondary account, TheSecondJoker!  Check out the custom work this Featured Cardsmith has crafted, including custom planes, abilities, and mechanics. Don't forget to check out the five below and drop some favorites on them!

Long time Cardsmith, IanLowenthal has been crafting custom cards since 2015. Check out all of the fun sets over on his main page while you peruse the craftsmanship of this Featured Cardsmith, My favorite is the Bob set! We put a few cards below for you to check out and add favorites to.
Each month we're excited to highlight a few Cardsmiths that have helped make MTGCardsmith the best interactive online Card Creator. We hope you'll take some time to check out their creations!
Apr 01, 2021
by Corwinnn, & Tomigon